Dreaming of the day you can leave the heavy laptop behind and give all your presentations from your iPad? Joe Kissell explores how the newest mobile version of Keynote and the iPad 2 change what's possible.
You'll get the best results (and the highest resolution) using a display or projector with either the $39 Apple Digital AV Adapter (for displays with HDMI inputs) or the $29 Apple VGA Adapter (for displays with VGA inputs). If you're connecting to a television with neither HDMI nor VGA inputs, you can instead use the $39 Apple Component AV Cable or the $39 Apple Composite AV Cable, as appropriate, although both offer lower resolution than the Digital AV and VGA adapters.
With an iPad 2, either the Digital AV or VGA adapter lets your iPad mirror everything from its internal screen onto the external display, which may be useful if you want your presentation to include demonstrations of other iPad apps or content that's not within Keynote itself. However, note that on the original iPad, where mirroring is unavailable, Keynote itself produces no external video signal until you tap the Play button (which is probably what you want anyway). Don't let this confuse you when you're setting up for your presentation and initially see no video on your external display.
If possible, when using an iPad with an external display, set your iPad on a lectern or table and keep it stationary during the presentation. It's cumbersome to hold an iPad that's tethered to a display, and if you get too animated with your hand gestures, you run the risk of the cable falling out (or tugging at the display). If that's not possible, try to use an extra-long video cable to maximize your range of movement.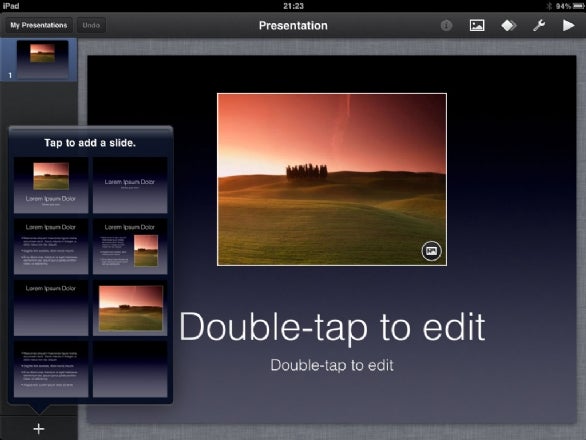 To avoid losing data during import, create your presentations directly on the iPad using one of Apple's standard themes.
Control the presentation
Once you tap Play, you can use your iPad to control the presentation as well as provide extra hints for yourself (a cheat sheet, if you will) that the audience won't see. In the earliest releases of Keynote for iPad, if you had an external display connected, you couldn't see your presentation on the iPad's screen itself; the iPad functioned only as a remote control, and you had to position yourself to see the external display. Fortunately, in version 1.3 and later, you have several options for displaying your presentation plus presenter notes on the iPad.
To change what's on the iPad's screen when using an external display, tap the Layouts icon and then one of the follow buttons: Current (the current build of the slide as shown on the external display), Next (the next build, which may or may not be the next slide), Current and Next (current and next builds side by side), or Current and Notes (current build and any accompanying presenter notes). This final layout is the only one to display presenter notes, but you can supplement it by tapping the button in the upper left corner to display a list of slide thumbnails, which can aid in navigation (tap a thumbnail to jump directly to that slide).