Refurbishing Samsung Note7s for resale is a 'disastrous' plan, analyst says
But others say recalled and refurbished Note7s are not risky.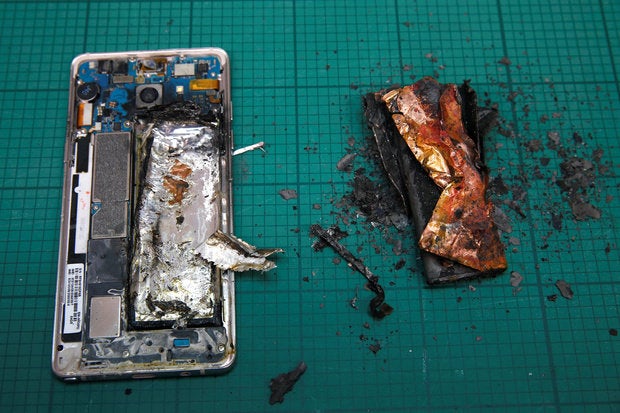 Just two days before Samsung's launch of the Galaxy S8 on Wednesday, the company announced it will consider using some recalled Galaxy Note7 smartphones for re-sale as refurbished or as rental phones.
One analyst bashed the plan as "disastrous," while another said Samsung is performing a "balancing act" following the Note7 fallout when some units overheated and caught fire.
Samsung also said in a statement on Monday that it could detach salvageable components from the Note7s for reuse. It may also extract metals like copper, gold, silver and nickel from the devices using environmentally friendly methods.
Some Note7s overheated and caught fire last year, leading to a global recall of more than 4 million devices at a cost of $6 billion to the company. The company came under fire at Mobile World Congress in Barcelona in February from Greenpeace over how Samsung planned to for recycle or dispose of the Note7s.
On Tuesday, Gartner analyst Werner Goertz called Samsung's refurbishing idea "disastrous," since air travel restrictions on carrying Note7s onboard still apply. "Why subject the already tarnished Samsung brand with more exposure to Note7?" he asked.
"I think it's a huge mistake for Samsung to do this," agreed Patrick Moorhead, an analyst with Moor Insights and Strategy, referring to the sale of refurbished Note7s. "The Galaxy S8 will likely do well, so why risk it? The longer the Note7 is forgotten, the better for Samsung."
Goertz noted that the mechanical enclosure that failed to accommodate the swelling of the malfunctioning Note7 batteries apparently still remains the same. "What prevents further damage?" in Samsung's refurbishment announcement, he asked.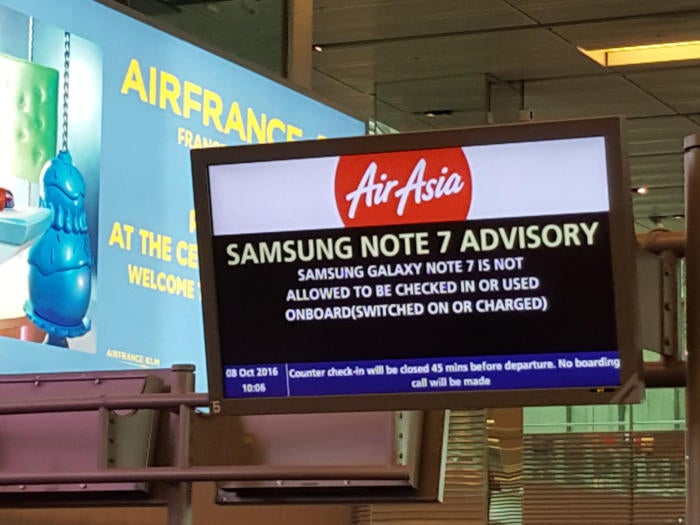 Martyn Williams .A sign advises against use of Samsung's Note7 in aircraft at Changi Airport in Singapore on Oct. 8, 2016.
On the other hand, Goertz called Samsung's plan to recycle components a good idea, provided the parts can be harvested economically.
Several analysts and industry insiders said it is unlikely that Samsung would find a market for refurbished Note7s in the U.S. or Western Europe, but could do so in India, Asia Pacific or Latin America, depending on the price.
"We believe Samsung has addressed any risk of these devices ever catching fire," said Craig Reigelhaupt, direct of product marketing for Tangoe, a consultancy and expense software provider to IT shops.
He acknowledged that businesses in North America and Western Europe might be reluctant to buy refurbished Note7s and will wait for the imminent launch of the Galaxy S8. Still, he said only a "handful" of battery fires were reported that tarnished the Note7's image.