Review: Fahrenheit for iPhone and iPad
With at-a-glance temperatures and extensive data, this app improves slightly upon the built-in Weather app on the iPhone and iPod touch. For the iPad, it's a great low-cost, high-value addition if you're looking for a weather widget.
Some may scoff at the need for a built-in app on the iPhone to tell you about current weather conditions—there's this fantastic new invention called a window that you can look out of and see what the weather's like—but I find it quite useful. Will I need a coat when I go outside or is it warm enough for a short-sleeved shirt? This unseasonably warm weather—just how hot is it right now? Just a few taps, and I can get exact temperature information I couldn't gather with just the naked eye.
There's one problem, though—those few taps. To actually get that at-a-glance information, I've got to launch the built-in Weather app, wait for it to load, and then find out how hot or cold it currently is. That's not a huge investment of time, obviously, but I'd like to be able to just glance at my phone to get the temperature as easily as I do the time.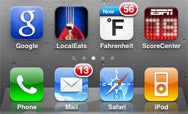 Home Temperature: The Fahrenheit icon—top row, second from right—puts the current temperature on your home screen in the form of an alert badge.
That's the main problem Fahrenheit looks to solve. The universal app from International Travel Weather Calculator pushes the current temperature to the home screen of your iPhone, iPod touch, or iPad—the temperature, which is tied to your home location, appears as an alert badge over the Fahrenheit logo, just like the alert badges that appear on apps like Messages and Mail.
But Fahrenheit delivers more than just a home-screen temperature. Launch the app, and you'll find a wealth of weather information—including current conditions, humidity, pressure, and dewpoint; a 10-day forecast; the wind speed and direction; sunrise and sunset times, and a UV index among other data. Tap an individual day, and you'll get the forecast in three-hour blocks. The content is about as extensive as what you'll find in Weather+, another International Travel Weather Calculator app, though that offering provides a more polished interface than what you'll get with Fahrenheit. Still, Fahrenheit is still an easy-to-navigate app with data that's as readable on the iPhone as it is on the iPad.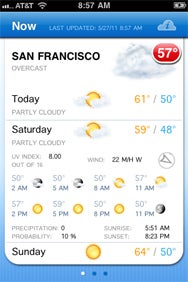 Bright Outlook: Fahrenheit offers more than just the current temperature. Within the app, you'll find a 10-day forecast. Tap any day to get the outlook in three-hour increments.
If you somehow find the wealth of weather info contained in Fahrenheit inadequate, a $1 in-app purchase adds three-hour rain, satellite, and wind, speed maps. (Three-hour temperature and cloud maps come standard with the app.) The add-ons are decent, though hardly indispensable. If you're really into radar imagery, a more dedicated app like Radar Scope will probably be more to your liking. Still, it's nice of Fahrenheit to offer access to such data at a fraction of the cost.