Review: iOS 9 delivers polish and stability
Apple's free update to its mobile OS delivers relevant information, smarter search and better security.
For those who use Apple Pay, tapping the Home Button twice on the lock screen will bring up your default card; you no longer have to wait that split second for Apple Pay to activate when held up against an NFC reader.
There are a couple of new apps, too. The first is iCloud Drive. Thus far, the iCloud services have been an important aspect of the iPhone experience, invisibly keeping contacts, calendars, and documents current across all of your devices. Users have asked for more control over the process, and iCloud Drive is Apple's answer. Like Dropbox or OneDrive, iCloud Drive is a repository for storing, organizing and sharing documents. If an app supports iCloud document storing, the files can be found sorted by default under a folder named after the app.
The second new app is the aforementioned News, which collects news from a variety of sources, customized to individual user preferences when first launched. News supports bookmarking articles for later, media like photos and videos, stats and infographics, and articles that include animations and other graphics.
News also learns your interests, allowing for better suggestions under the For You section. Your selections are set across all of your devices, so you can pick favorites on one device and all of your devices are automatically configured. Additions or subtraction of news sources, channels or interests are applied universally as well.
For the iPad
The iPad lineup gains some significant features that enhance its usability. First, the iPad keyboard now has shortcuts for Undo/Redo, Cut/Copy/Paste, access to the camera, the ability to add attachments and, in Notes, checklist creation and sketch mode. The keyboard also supports trackpad-like functionality when you place two fingers on the glass and drag them around the screen, allowing you to precisely place the cursor anywhere you need it to be.
To take advantage of the iPad's larger screen (compared to the iPhone), Notification Area for iPad now supports a two-up mode when held in Landscape orientation, showing the Today view and Notifications/Widget alerts side by side in lists that can be scrolled independently of the other.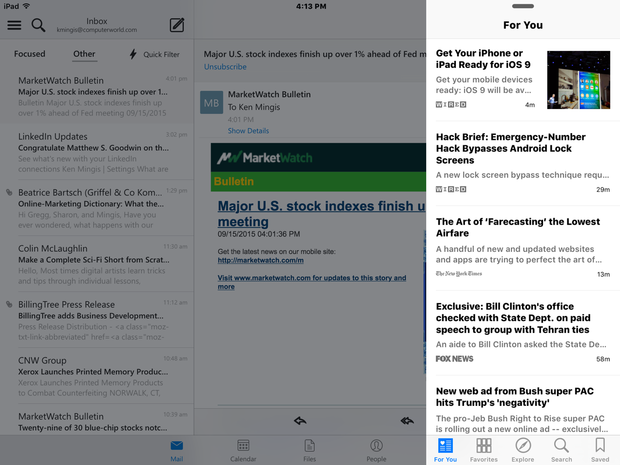 iOS 9's new Slide Over feature lets you quickly open a second app -- in this case, Apple's News app in the smaller window to the right -- while leaving the app you were using still in the background (on the left).
More importantly, the iPad interface now supports user multitasking -- the ability to use two apps at once -- as long as you have an iPad Mini 2 or 3, or the iPad Air or Air 2. When in an app, a swipe from the right edge of the iPad display will call up either a recently used app or a list of available apps. This Slide Over view lets you quickly jump into using another app without leaving the existing app by swiping down from the top of the Slide Over view to bring up an App Switcher.
Previous Page 1 2 3 4 5 6 7 8 Next Page