Review: Skype 6.0 for iOS brings renewed focus to a venerable communication app
It wasn't too long ago that the technology behind Skype (App Store link) seemed like a short step removed from black magic.
Speaking strictly from personal experience, I must say that I like Skype's approach better here, because it more closely matches the way I tend to communicate with others: most of my conversations start with a quick text message, and often evolve into a video or audio call. I also find myself sharing my location quite often of late—an action that in Messages requires an inordinate amount of user attention, but that Skype makes easy to use even if you're walking around a busy mall.
In addition to Skype-to-Skype calls, you can also dial up a regular phone line and pay either a per-minute rate or an unlimited monthly subscription fee—a feature that comes in really handy if you're travelling, since free Wi-Fi hotspots are easier to come across than cheap long distance plans for your cell phone.
Call me maybe
Skype's communication protocols are a well-oiled machine; as a result, they work quite well under pretty much any network condition, and both voice and video calls sound and look great regardless of whether you are on Wi-Fi or cellular. Voice quality, in fact, is better on my iPhone than it is on my desktop, probably due to the handset's dual-microphone setup, which reduces noise pickup.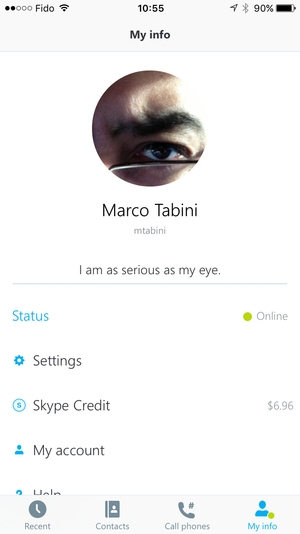 The settings screen—simple, clean, and well organized.
The app also supports audio group calls, although it is not capable of doing the same for video. This isn't a big deal on iPhones—I suspect that the bandwidth and power requirements are probably a bit too high for it—but it certainly seems like a wasted opportunity on the iPad, where the larger screen would make for a perfect conference call experience.
Unsurprisingly, given that Apple does not make the necessary interfaces available to developers, there is no support for screen sharing as well. That's a bit of a shame, because this kind of functionality could come in handy, but certainly not a problem that's unique to Skype.
Out of the wilderness, into the sun
I really like the latest version of Skype. Microsoft's renewed focus on a tight user experience that places a premium on attention to detail and eschews gimmicks could be just what's needed to elevate the app out of the many "wilderness years" of neglect that have afflicted it since eBay purchased it in 2005.
Still, its biggest weakness may well be the fact that, while it was once the only app of its kind, it is now one of many players in a crowded market, and one that is not installed by default on any operating system—a fact that might hinder its growth in the long term.