Samsung Galaxy TabPro S review: This Surface Pro clone is drop-dead gorgeous
Sporting the first OLED screen out in the wild, the TabPro S will turn heads…and almost makes the wait for the tech worth it.
If technology were people, Samsung's Galaxy TabPro S would clearly be a super model: It's willowy thin, extremely lightweight, and has a jaw-dropping OLED screen.
Even better, Samsung's first convertible is a PC. This sleek 12-inch tablet sports Windows 10 Home, and it's paired with a pretty peppy CPU, too.
Did we mention this machine has an OLED screen? Samsung isn't the only manufacturer to announce an OLED in a PC—Dell, HP, and Lenovo all showed off laptops with OLEDs at CES in January. This is the first one we've seen in a shipping product, though, and it's a doozy.
It has an OLED display! OLED!
Long used in smartphones, organic light-emitting diode (OLED) screens differ from the typical side-lit LED panels found in the majority of laptops and tablets today. Side-lit screens light up the entire display at all times. In order to show black on the screen, the panel has to block the light. As you can imagine, black usually appears more like gray, and any escaping light will create ugly backlight bleed.
That's not the case with an OLED panel. Each pixel can be turned on and off individually, resulting in deeper black levels and more accurate colors.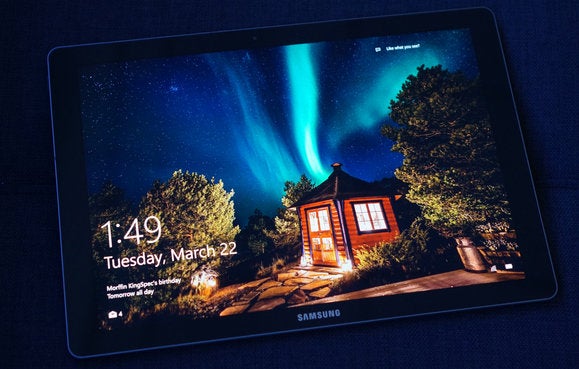 This picture doesn't do it justice, but the black levels and contrast of the Galaxy TabPro S's OLED display are superb. Credit: Gordon Mah Ung
How beautiful is it? I've always thought the Surface Pro 4 had a nice screen, but when placed side-by-side in a darkened room with the Samsung TabPro S, the SP4's backlight bleed and grayish blacks were woefully obvious. The OLED screen also gives the TabPro S's contrast a boost.
Sure, if you go by numbers, the TabPro S's resolution of 2160x1440 might not sound impressive. It's not 4K Ultra HD, nor does it match the Surface Pro 4's 2736x1824. But when it comes to OLED, numbers don't tell the whole story. Overall, the Samsung TabPro S bests the Surface Pro 4's panel for image quality—it's just lovely.
It's not all sunshine and rainbows
OLEDs do have a downside: They can degrade over time. Therefore, some manufacturers attempt to slow this effect in their displays. For example, Dell's 4K Ultra HD OLED desktop panel has a sensor that switches off the monitor when you're not sitting in front of it, in order to reduce wear and tear on the diodes.
Samsung has also taken steps to protect the Galaxy TabPro S's screen, using a far more annoying approach. The screen dims significantly after one minute of inactivity—and you can't override the feature. The dimming is selective, too. The screen's brightness faded during my tests of graphics, RAM, and memory performance, but not when I fired up a video in Windows 10's media player or ran 3DMark. It also didn't dim when I was actively using a browser window, but when a flash or HTML5 animation is running in the background, it'll get darker.