Samsung Galaxy TabPro S review: This Surface Pro clone is drop-dead gorgeous
Sporting the first OLED screen out in the wild, the TabPro S will turn heads…and almost makes the wait for the tech worth it.
Samsung didn't officially confirm that this dimming is related to OLED preservation, but I doubt it's a power-saving issue, as the Galaxy TabPro S dims the screen whether on battery or plugged in. Regardless of the intent behind the feature, it's annoying and a potential deal breaker for some. Not having control over it (at least not that I could find) is very frustrating.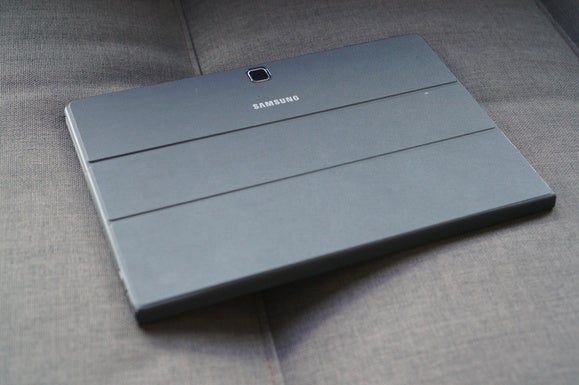 The Galaxy TabPro S keyboard cover wraps around both sides, which offers more protection than the Surface Pro 4 or iPad Pro keyboards. Credit: Gordon Mah Ung
Solid specs, disappointing port
Inside the tablet is an Intel Core m3-6Y30 paired with 4GB of LPDDR3/1600 RAM and a 128GB M.2 SATA SSD. These specs may sound lower-end than you'd expect from a competitor to the Surface Pro 4, which offers Core i5 and Core i7 processors and faster storage. However, the Surface Pro 4's base model is similarly configured, and even when you pit the TabPro S against the SP4's higher-end options, most people won't notice a difference in performance during typical, everyday tasks.
You only get one port on the TabPro S: a reversible USB Type C port for charging and data transfer that supports USB 3.1 10Gbps transfer speeds. (Sorry, Thunderbolt 3 fans—no love this time.) It's unfortunate there's just a single port, since it hinders your ability to charge the device when another USB device is plugged in. Sure, you can buy a multi-port dongle, but it's still a pain in the behind.
More disappointing is that Samsung didn't include a USB Type A-to-USB Type C dongle in the box. It's unlikely that most people who buy a Galaxy TabPro S will have the foresight to buy a dongle before there's a need to install apps or copy programs from a USB thumb drive. HP's Spectre X2 wins out here, as it's cheaper, sports an LTE modem, and comes with this vital accessory.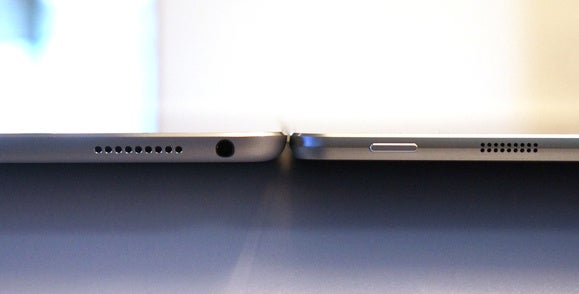 The Samsung Galaxy TabPro S (right) next to the 13-inch iPad Pro (left). You probably can't see it, but the TabPro S is thinner by a hair. Credit: Gordon Mah Ung
The good news is you can charge the Galaxy TabPro S using other USB Type C chargers. For instance, I was able to use the chargers for the Pixel C and the Chromebook Pixel, as well as Innergie's third-party PowerGear USB-C 45.
The Galaxy TabPro S is also one of the thinnest if not the thinnest convertible device we've ever seen. Samsung states its official measurement as 6.3mm, but my digital calipers say this convertible is just about 6.5mm. For comparison, the 12.9-inch iPad Pro and Pixel C measure 7mm, and the Surface Pro 4 is a plus-size 8.5mm. All these are, of course, without their respective keyboards.
Previous Page 1 2 3 4 5 6 Next Page