Samsung Galaxy TabPro S review: This Surface Pro clone is drop-dead gorgeous
Sporting the first OLED screen out in the wild, the TabPro S will turn heads…and almost makes the wait for the tech worth it.
In terms of hot new tech, it just might—that beautiful OLED screen will leave you giddy. It's also much cheaper than the Surface Pro 4. At $899 with the keyboard, the Galaxy TabPro S is surprisingly inexpensive when you consider the screen technology inside. A Surface Pro 4 with similar specs and a keyboard will set you back $1,029.
However, the TabPro S loses to the Surface Pro 4 in the areas that likely matter more. For those who need performance, the higher-end Surface Pro 4 models are just plain faster. The integrated USB Type A port and almost infinitely adjustable angle on the kickstand also give the Surface Pro 4 a leg up. Microsoft also includes a pen with the Surface Pro 4, while Samsung hasn't priced its pen, much less made it available. And of course, you can completely control the screen brightness on a Surface Pro 4.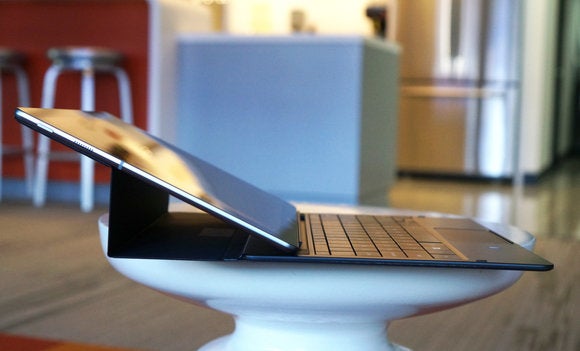 The Galaxy TabPro S features two available viewing angles. Credit: Gordon Mah Ung
Performance
For a fanless, wafer-thin PC, the Galaxy TabPro S posts very reasonable performance in the kinds of tasks it will confront.
In our Handbrake encode test, where we take a 30GB 1080p MKV file and transcode it into an MP4 using the default Android Tablet preset, the TabPro S outdid the Surface Pro 3, which is thicker and has a fan. This benchmark hammers all the available cores on the computer, and because it can take a long time to run, the test puts a heavy thermal load on a device's CPU.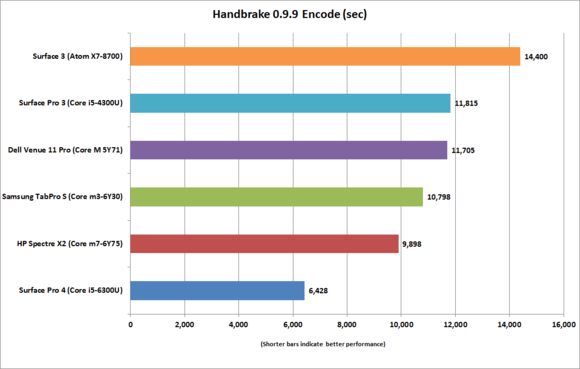 The Core m3 in the Galaxy TabPro S performs reasonably well despite the device's super-thin body. Click on image to enlarge.
Some devices react to this intensive CPU and thermal task by throttling down performance, which is what I've seen in the Surface Pro 3—its Haswell processor drops back as it heats up. Some SP3 owners say their units don't do that, but I think that's because they're not pushing their systems as hard. That's not to say the Galaxy TabPro S doesn't slow down or throttle as it heats up, but it's on a minor level.
In graphics performance, there's not much of a gap between the TabPro S and most midrange Core i5 chips and even a few Core i7 processors, which use nearly the same graphics core. I attribute variances among the midrange Surface Pro models, the TabPro S, and the Spectre X2 to any number of minor reasons. For example, a small margin of variance always exists between benchmark runs, and then there are things like background static or even the temperature of the room when the benchmark was run.
Previous Page 1 2 3 4 5 6 Next Page