Samsung Galaxy TabPro S review: This Surface Pro clone is drop-dead gorgeous
Sporting the first OLED screen out in the wild, the TabPro S will turn heads…and almost makes the wait for the tech worth it.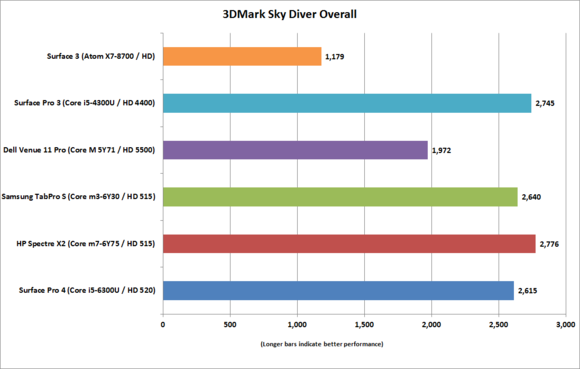 3DMark Sky Diver is mostly influenced by the GPU in each tablet, so the Core i5 chips don't maintain much of a lead as they use similar graphics cores. Click on image to enlarge.
The bottom line is that with integrated graphics, the TabPro S can play Minecraft with a few settings turned down, but forget trying to play Tom Clancy's The Division.
Since these ultraportable convertibles won't primarily be used for video editing or gaming, the more important test is office work. To evaluate a device's performance during tasks like word processing, email, and web browsing, we use PCMark 8's Work Conventional benchmark.
As expected, the results confirm that with enough RAM and an adequate SSD behind them, it's hard to tell the difference between Core m and Core i7 processors in these types of tasks. I can tell the difference when I drop to a more budget chip, like an Atom X7, but within the range of "Core" tablets and laptops, you'll get a similar experience in most office tasks.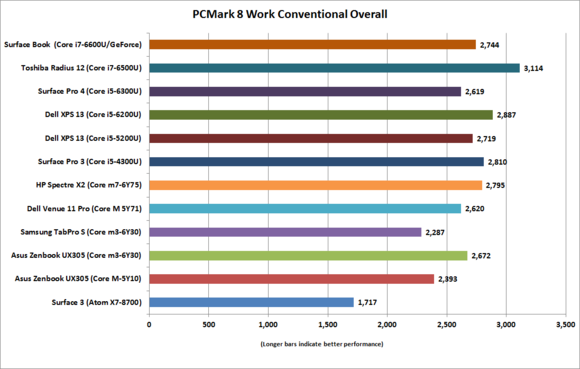 In office tasks, you'd be hard pressed to tell the difference between a Core m3 and Core i5 chip. Click on image to enlarge.
Battery Life
Where the Galaxy TabPro S really knocks our socks off is battery life. (Though there's a caveat with that.) As mentioned earlier, an OLED panel doesn't backlight the entire screen—so unlike a standard LED display, a pixel won't consume power when displaying black. That means lower power consumption, and thus a much better battery life. When paired with an average-sized battery, you'll get much more longevity out of a device that uses an OLED screen instead of an LED display.
That's definitely the case for the Galaxy TabPro S, which uses a 39-watt-hour battery. In our rundown test, in which we play a 4K video repeatedly using Windows 10's Movies & TV application, the TabPro S gave us almost nine hours of playback.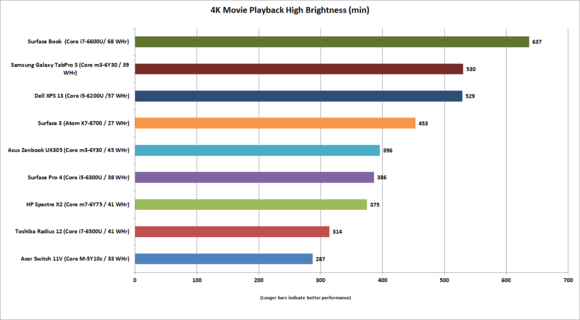 The video playback life of the Samsung Galaxy TabPro S is spectactacular considering its battery size. Click on image to enlarge.
For contrast, Microsoft's Surface Pro 4, which has a traditional IPS screen (and, admittedly, a more power-hungry Core i5) runs out of gas at about 6.5 hours. Dell's newest XPS 13 actually ties the TabPro S, despite its Core i5 chip. But the XPS 13 does so with a giant 57-watt-hour battery. For the TabPro S to match the Dell's battery-life performance is just phenomenal.
Previous Page 1 2 3 4 5 6 Next Page