Samsung Galaxy TabPro S review: This Surface Pro clone is drop-dead gorgeous
Sporting the first OLED screen out in the wild, the TabPro S will turn heads…and almost makes the wait for the tech worth it.
Admittedly, our test illustrates battery life in a scenario where there's a good amount of black on the screen, since with most movies, you have two black bars at the top and bottom of the panel that don't drain energy due to the TabPro S's OLED screen. However, if you were using the machine for tasks where the screen is almost all white, you'd consume far more power, maybe even more than a standard IPS panel.
So depending on how you use the TabPro S between charges, your battery-life mileage may vary. As more OLED displays appear in the wild, we reviewers may begin using more than one battery test. For the moment, I can definitely say that OLED kicks butt for movie runtime.
Conclusion
In the end, the Galaxy TabPro S isn't the Surface Pro–killer some may expect it to be…but it's an awesome little convertible, even with the keyboard's drawbacks and the curious screen-dimming behavior. If you can look past its foibles, that OLED panel alone makes this a worthy purchase.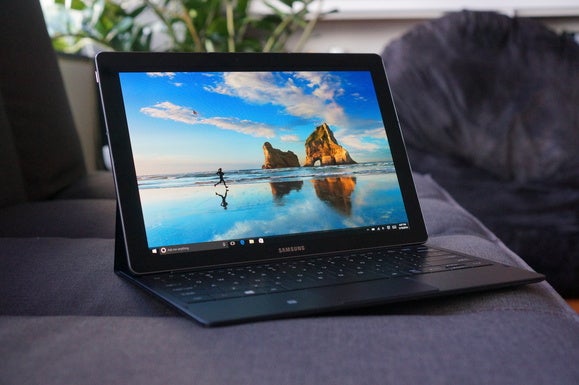 It isn't perfect, but the Galaxy TabPro S is one heck of an impressive tablet. Credit: Gordon Mah Ung