Stick this in your earholes: Pocket Casts is the best podcatcher app for Android
Pocket Casts has proven itself to be the best podcatching app for Android.
Talk radio is horrible. By and large, the medium has devolved into stale fart jokes by aging morning zookeepers and political discourse aimed at rural survivalists. Thankfully, podcasts allow us to handpick the talk programming that we want to hear. Smartphone apps are the perfect medium to manage your podcast library and take it with you-anywhere your ears go, your favorite podcasts can follow.
Recently, I profiled the best podcatching apps for Android. To be sure, any of the eight apps featured there will be good enough. However, after spending some time with each app,Pocket Casts ($4) has proven to be the best podcatcher for your Android device.
Style is substance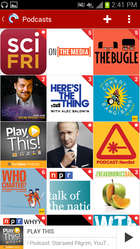 The magazine layout of all your subscribed podcasts.
Pocket Casts' flat design and clutter-free navigation allows for an intuitive user experience. All your favorite podcasts are stored in one easy-to-peruse magazine-style library (as you can see to the left). One nit-pick: There is no "list view" layout option in the initial window (I'm a fan of list views), but once you click a podcast icon, the app will present you with a list view of available episodes.
Tap on an individual episode to prompt a pop-up with a brief episode description and the option to stream or download. (The app charitably has an auto-delete function that will delete episodes after they've been played-the lack of an auto-cleanup in other apps has caused me grief in the past.)
Once inside an episode, you can readily skip around on the timeline or simply push a button to skip ahead 30 seconds if you're bored, or backpedal 10 seconds if you missed something. Easy.
The app boasts a simple discovery function to find new podcasts by network, genre, or staff picks. Additionally, it's simple to find and subscribe to the podcasts you already knew you liked.
Playlists are for playas
Playlists are a must-have for long car rides or those times in your life when you want to remain hands-free over a long period of time. Creating and managing playlists in Pocket Casts' minimalist interface is a simple endeavor.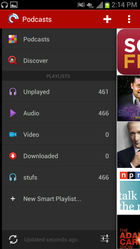 The main navigation window including playlists.
You can add episodes to manually curated playlists with a simple tap. Additionally, you can create "smart playlists" that will automatically separate podcasts into a group (such as sports, comedy, tech, and so on), which you can download/stream manually on a per-episode basis. Alternately, you can set it up to auto-download as episodes become available (wisely, Pocket Casts has included an option to only auto-download when connected to Wi-Fi).