Stick this in your earholes: Pocket Casts is the best podcatcher app for Android
Pocket Casts has proven itself to be the best podcatching app for Android.
Personally, I'm not a big consumer of video podcasts (except for TechHive's own Play This! and TechWatch, of course), but Pocket Casts seemed to handle video content just fine and allowed for the same navigation and playlist management as my audio podcasts.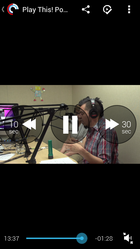 Our own Play This video podcast.
If there was one thing missing from Pocket Casts, it would be a lack of a Web interface. The best apps anticipate that we travel betweenmultiple screens throughout the day. I would love the ability to explore new podcasts, manage playlists, or download episodes directly from a website and have it sync with my phone. To be fair, few podcatchers offer this functionality with the exception of the no-longer-supported Google Listen, which would sync with a folder in the moribund Google Reader.
Many consumers have a mental block against paying for apps, which is unfortunate as it encourages better software. Yes, there are plenty of free podcatching options out there, but for my four dollars, the ability to interact with a quality (and ad-free) app that you will literally spend hours with is well worth the investment.