The best third-party keyboards for iPhone and iPad
Let's face it: Third-party keyboards have left Apple's iOS keyboard in the dust. Here are our favorite picks.
Whether it's the slim butterfly mechanism of the new MacBook or the bouncy fabric of the Smart Keyboard, the feel and travel of the letters under our fingers has as much impact on our productivity as the speed of the processor and size of the screen.
It's no different on our touchscreen devices, and thanks to third-party developers and iOS's now-open keyboard API, the iOS typing experience has gone from ordinary to extraordinary. Hundreds of apps all claim to speed up, smarten, and otherwise improve upon Apple's own QuickType keyboard. For example, the slide typing method pioneered by Swype has transformed not just how but also how much we type. But which ones are the smartest, most comfortable, and best of the bunch?
Whether you want to type faster, use one hand, add a funky design, or see more of the screen, you'll find a multitude of options in the App Store—and even some of Apple's biggest competitors are getting in on the action.
Winner: Gboard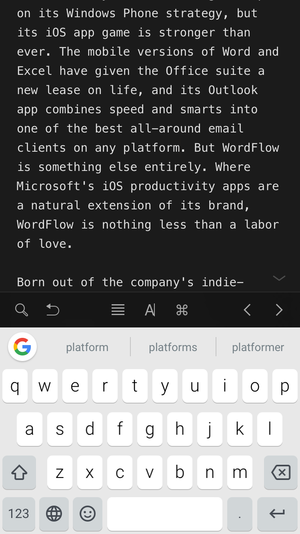 Gboard looks a lot like Apple's QuickType, but the similarities are only skin deep.
It was fairly inevitable that Google would release an iOS keyboard—Google has long been proliferating the App Store with its many tools and utilities, and keyboards was just about the only piece of the pie it didn't already have one of its fingers in.
What is surprising, however, is how great it is. Google has a history of ignoring the latest APIs and interface guidelines when it comes to its iOS offerings, but Gboard (free, universal) looks and feels right at home on the iPhone. Quite frankly, despite the addition of a multi-colored "G" logo in the left corner (and the use of Android's Roboto font over San Francisco), you won't find very many differences at all between it and Apple's keyboard. The only major change you're likely to spot being a slightly smaller return button to make room for a permanent period key next to the space bar.
But go a little deeper and Gboard begins to set itself apart from both its competitors in the App Store and Apple's stock keyboard. Inside the settings you'll find a set of toggles that gives you a measure of additional control over the keyboard's operation. Google matches Apple's options for auto-capitalization, correction, caps lock, character preview, and the "." shortcut, as well as the show lowercase letters option that Apple hides in the Accessibility tab. And there's even a switch to block offensive words (which is something you'll want to turn off if you're tired of constantly editing the word "ducking").