The best third-party keyboards for iPhone and iPad
Let's face it: Third-party keyboards have left Apple's iOS keyboard in the dust. Here are our favorite picks.
While there's a good chance you'll miss most of the keys you're aiming at, Minuum uses an autocorrect engine that does well to mimic the muscle memory of a full-sized keyboard; there's an impressive accuracy rate, and when it misses, there's a good chance that one of the five options to correct will be right, cutting down on the amount of times you'll need to hit the tiny backspace key.
There's no swiping, so you'll have to tap out your words, but Minuum does use a couple of gestures to make things a little speedier. You can swipe right to insert a space and left to delete. And if you start to get claustrophobic, you don't need to hit the globe icon to change keyboards—a simple swipe up will expand the keys to normal size. But where's the fun in that?
Best for customization: Go Keyboard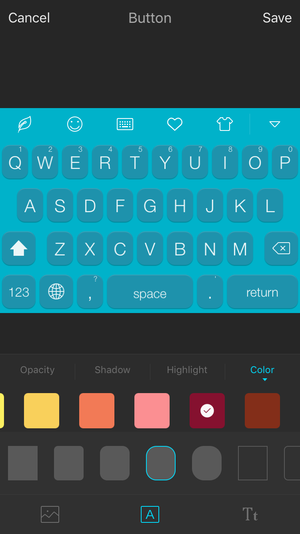 If you're looking for customization and swipe typing, go and get Go Keyboard.
Go Keyboard's (free, universal) robust customization options don't come at the expense of its usability. Even without all the tweaks it lets you make to the appearance, it's a decent alternative, with stickers, swipe support, and cursor control, as well as Reachability-inspired one-handed mode. But the main reason to install Go Keyboard is its multitude of themes, which can be easily downloaded inside its companion app and changed with just a tap without leaving the keyboard.
Themes and color combinations range from tasteful to tacky, but the vast majority of them are free, so you'll be able to test them and toss them if they're not to your liking. There's also a keyboard creator that lets you build the keyboard of your dreams, with sliders and selectors to customize the font, color, picture, and opacity. Like themes, some of the options will cost a buck or two, but there are more than enough free ones to keep the creative juices flowing.
Best for speed: Nintype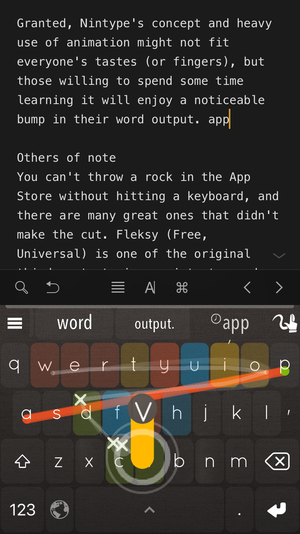 There's a learning curve, but Nintype is the fastest keyboard in the west.
Nearly every swipe-based keyboard uses the simple concept Swype originated with its Android app: Trace the letters of the word in a single, continuous motion. Nintype ($5, universal) offers a spin on this traditional swiping method that actually speeds up your tying—assuming you can master its technique. It's the only keyboard with a tutorial that's prerequisite to using it, but you shouldn't let that scare you. You can use Nintype as a regular swipe or pecking keyboard if you prefer, but you'll be missing out on one of the most unique keyboard concepts around, a powerful system that combines multi-finger sliding and tapping to create words.
Previous Page 1 2 3 4 5 6 Next Page