The death of Intel's Atom casts a dark shadow over the rumored Surface Phone
Microsoft still reportedly remains committed to Windows 10 Mobile running on ARM chips. And what about the HoloLens?

Intel once had plans to retake the smartphone market with an integrated 4G/microprocessor SoC called "SoFIA." Those plans are now dead. Credit: Intel
Intel chief executive Brian Krzanich spoke optimistically about the phone business in 2014, and a year ago appeared prepared to do whatever it was necessary to make phones succeed. Now, Intel has acknowledged its defeat on the phones front and vowed to fight elsewhere.
"The reality is that if you're going to spend money, you have to take it from somewhere else," Moorhead said.
Windows Phone: running out of options
So does that mean that the dream of an Intel-based Windows phone is dead? "Yes, if they're not going to go after the smartphone, I don't see how that would be possible," Moorhead said.
If Microsoft does remain committed to an X86-compatible Surface phone, it does have some options, however unattractive. Intel recently announced its next-generation Apollo Lake Atom architecture, which Intel positioned as the foundation for, not a phone, but an "entry level PC." The Apollo Lake chips will be branded as Atom, Celeron, and Pentium, Intel said.
Intel hasn't said exactly how much power the Apollo Lake chip will consume, though it's made on the same 14-nm process as the existing "Cherry Trail" Atom chips. The Atom X7-Z8700 used in the Surface 3 is rated at just 2 watts of power. Does that mean that it (or Apollo Lake) could be squeezed into a phone or phablet running Windows 10 Mobile?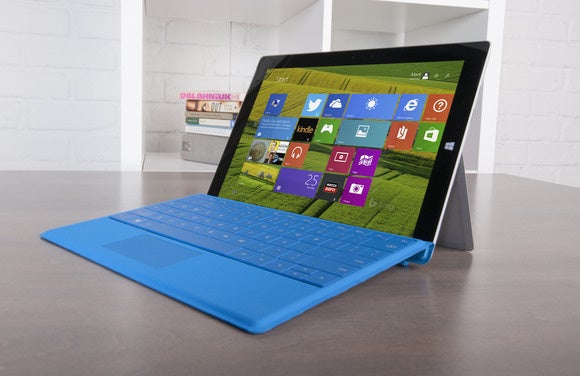 Could the Surface 3 be turned into a phone?
Intel seems to have left the possibility open. "In terms of Cherry Trail, form factor boundaries are increasingly blurring in the mobile computing market, and we no longer look at tablets as a stand-alone segment," an Intel spokeswoman said via email. "Our product roadmap reflects that."
Analysts, though, say it looks doubtful. "I have a hard time visualizing the package that would be compelling: with a phone running a processor that has never been used as a phone before that's running as a fake desktop," Wes Miller, an analyst with Directions on Microsoft, said in an interview. "And then what are you going to do for battery life? It's very perplexing."
That also means that that phone would have to have a discrete modem built in. Kevin Krewell, principal analyst at Tirias Research, noted that the SoFIA chip Intel cancelled was its first to have an integrated modem, which would make the phone even larger.