The different ways to play music on an Apple Watch
When you have an Apple Watch and iPhone, there are difference ways to control the music you're listening to.
Sync and play
Many people don't like to take their phones with them when they run or cycle, and the Apple Watch lets you play music directly from your wrist (to Bluetooth headphones, or to a Bluetooth speaker), even if you don't have your iPhone.
To do this, you need to sync a playlist from your iPhone to your watch. In the Watch app on your iPhone, tap Music, then, under Music Syncing, choose a playlist. Under Music Storage, set a limit: either a number of MB or GB, or a number of songs.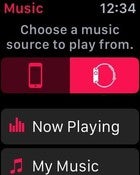 Start playing music from your Apple Watch.
Note that your Apple Watch has to be connected to its charger to sync the playlist, and this sync takes a long time; it can take hours if you have a lot of music. It's best to do this overnight.
To play this playlist, swipe up and display the Now Playing glance, tap the Apple Watch button, then tap My Music, and start playing.
Play Apple Music
The Now Playing glance on the Apple Watch is ready for Apple Music. There's a Beats 1 button; just tap it to start listening to Apple's flagship radio station.
There's also a Quick Play button. My first thought was that this would be a sort of "Shuffle All" button, but that's not the case. It plays a random selection of music from Apple Music. Sometimes when I tap it, it starts playing the first song of an album; I tap the Next button, and it plays the next song. Other times, it plays playlists; each song and artist is different. It seems to be using my Apple Music history - what I've listened to, and what I've loved - to play a selection of music that I might like.
You can choose to play specific music from Apple Music if you've added music from Apple Music to your My Music library, and if you have Apple Music active on your iPhone. Tap My Music, browse, and pick what to play. If it's not on your iPhone, it will be streamed from Apple Music.