The iPad Pro vs. the Surface Pro 3: We check Apple's lofty performance claims
Apple claims the iPad Pro is faster than "80 percent of portable PCs." The truth is, of course, more complicated.

The Core i5-4300U easily thumps all of its ARM comptetitors, but if the iPad Pro is "1.9X" faster, will it be just as fast? Click on image to enlarge. Credit: PCWORLD
As another point of reference, I used the results of MacWorld's review of the iPad Air 2 to compare to my own test of a Surface Pro 3 with the Core i5-4300U chip. In these multi-core 32-bit results, the dual-core Haswell again wallops the iPad Air 2, but it's surprisingly closer than I expected.
Geekbench 3 is a cross-platform test and measures integer, floating point and memory bandwidth performance. The developer says the workloads are "real-world" and are similar to what an actual program would stress when decompressing a JPEG file, or running encryption or the like. This isn't quite the same,as say, running Maxon's CineBench R15 which uses its own 3D rendering engine as part of its benchmark.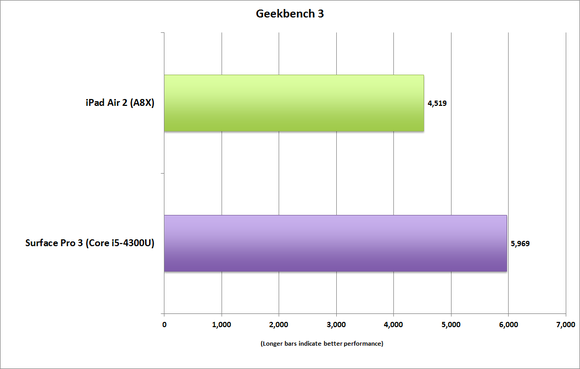 The iPad Air 2 loses to the Surface 3 Pro, but it's closer than I expected. Click on image to enlarge.
While the iPad Air 2 does quite well for an ARM chip, I'd hazard a guess that if you could run CineBench R15 on the iPad Air 2, it wouldn't fare as well. Still, people will want to see these Geekbench numbers because they're readily available on all platforms.
Here's one last comparison, using 3DMark's Ice Storm Unlimited gaming test. I made the chart using data from a Surface Pro 3 I tested and public data for the iPad Air 2.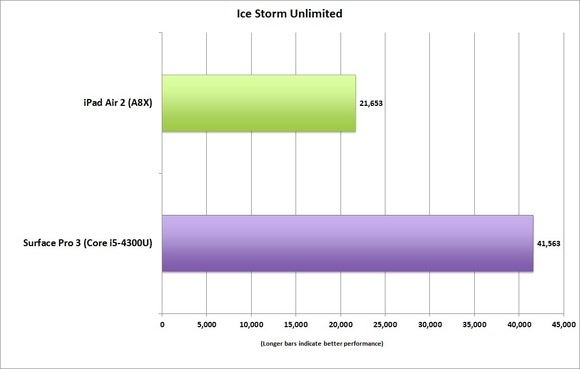 The Core i5-4300U trounces the iPad Air 2 but the iPad Pro is 1.9x faster right? Click on image to enlarge.
Parsing the data
So does this mean that the iPad Pro's performance boast of 1.9X over the iPad Air 2 means instant equal footing with a dual-core Haswell or Broadwell chip?
It's hard to believe, but Schiller could be right from a certain point of view.
I base this on statements the company has made regarding what it thinks the iPad Pro can do. For example, editing three simultaneous streams of 4K video on an iPad Pro is apparently possible now. Schiller cited this as proof of the iPad Pro's "desktop-like" performance. That task would indeed be tough on 80 percent of the portable PCs out there, and a good chore for a desktop too.
At the same time, Apple's demo used iMovie, its in-house video editor, which I'd guess is highly optimized for its hardware. And let's face it, iMovie is not Adobe Premiere Pro by any stretch of the imagination.
Previous Page 1 2 3 4 Next Page