The iPad Pro vs. the Surface Pro 3: We check Apple's lofty performance claims
Apple claims the iPad Pro is faster than "80 percent of portable PCs." The truth is, of course, more complicated.
That actually brings up the big disconnect with Apple's boasts of the iPad Pro's performance. One task that Schiller said you can't do is run AutoCAD 360 on a PC with 320,000 objects in a mesh and smoothly pan around. Probably. But after looking at the multiple 1-star reviews of Autodesk's free mobile AutoCAD 360 app in the Windows Store (Yes, it's a Metro app), I'd rather just skip it and install AutoCAD 2016.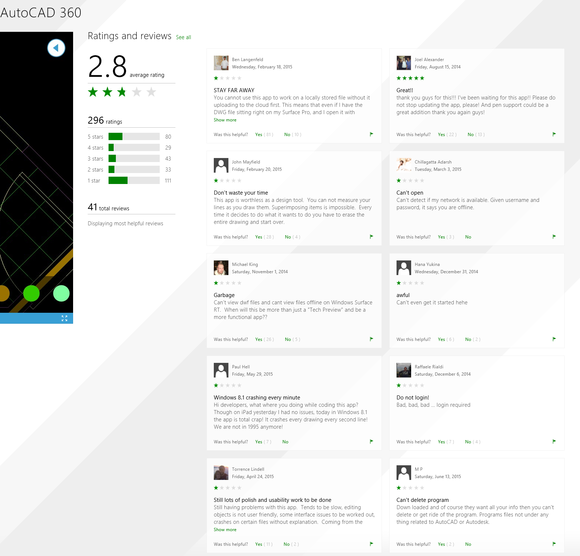 The free Metro-based AutoCAD360 doesn't get highmarks on the PC. Click on image to enlarge.
iPad Pro can't do that
And that's the big difference here. You can install AutoCAD 2016 on a large majority of the "portable PCs" being sold today. And you can also install Photoshop, Premiere Pro and Office.
I'm pretty certain you can't install the full versions of Photoshop, Premiere, AutoCAD, and Office on the iPad Pro and go to town. That's because it's not a PC. It's not even a Mac. It's a tablet that runs limited-functionality software really, really well.
Even if the iPad Pro is the fastest tablet when released, and an incredible testament to Apple's mastery of disciplines in hardware and software, it won't really be faster than "80 percent of Portable PCs." That's because it can't do things those 80 percent of PCs can do.
Previous Page 1 2 3 4