Third-party complications are a bigger deal than native Apple Watch apps
If the Watch is all about getting you in and getting you out, complications have the best real estate in town.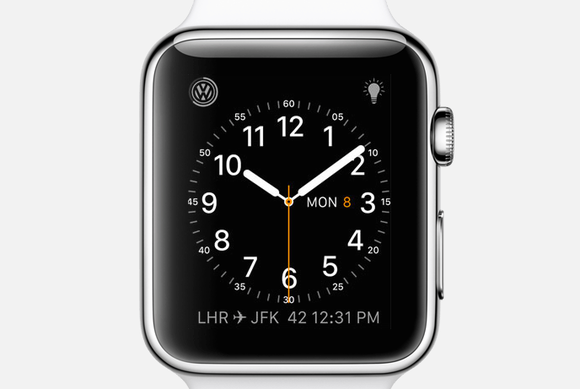 As one of the people fortunate enough to save enough money to buy the most expensive Apple Watch that isn't wrapped in 18-Karat gold, I was also one of the last pre-orderers to wear one. So by the time I finally got to strap a Space Black Stainless Steel Apple Watch to my wrist, I had a pretty good idea of what to expect. Not only had I frequented my local Apple Store to play around with demos and try on the various bands, I had also read a few dozen impressions from people who had gotten one before me.
It wasn't just the usual round of rushed reviews--over the 52 days between ordering and receiving my Watch, I devoured as much as I possibly could about Apple Watch, from touching experiences with its accessibility features to therapeutic tales of how couples used it to augment their relationships. But mostly I read about apps.
Standard aptitude
In the post-iPhone era, apps are everything. From the earliest days when Steve Jobs tried to convince us that web apps were a "sweet" solution for developers, it was clear that we needed a store that sold native applications. No matter how skilled a developer may have been at writing AJAX code, there was a deep gulf between the apps Apple offered and the ones that ran inside Mobile Safari. Apple set the standard for speed, quality and just plain usability, and developers were champing at the bit to get their hands on the iPhone's SDK. The Multitouch screen opened up a world of possibilities for mobile applications, and just as soon as the App Store opened its doors, hundreds of smart, modern apps began to populate it.
I assumed it would be the same with Apple Watch. Much as developers shrunk their Mac apps in size and stature for the iPhone (and embiggened them again for the iPad), it made sense that they would simply get smaller for the Apple Watch. As I studied screenshots, and read blog posts and reviews of the various apps I would eventually install, it seemed as though developers were doing just that: whittling down gobs of information for a wrist-sized screen.
But after the honeymoon phase of wearing my Apple Watch ended, a funny thing happened: I stopped using apps. Completely. Unless I received a notification that I could act on (like a message or phone call), I never launched an app. Ever. Not even one of Apple's.
Short and sweet
There's nothing necessarily wrong with any of the Apple Watch apps. Even without native support--the flagship feature of the fall release of watchOS 2--they actually look and feel more polished than the first-generation of iPhone or even iPad apps did. Developers have put a considerable amount of thought into what information is needed on our wrists, and many of the apps I've used are quite intuitive in displaying useful chunks of data. And while it would be easy to blame the lag, that's not really the issue either. Admittedly, loading can at be painfully slow at times, but more often than not apps display relatively quickly, and there have been very few times when I left one out of impatience.