VideoSlam review: Fast-paced, no-frills compilation videos on your iPhone
VideoSlam makes it easy to assemble quick compilation videos using photos, home movies, or both from a predetermined time.
There's a good reason folks leave point-and-shoot digital cameras at home in a drawer most of the time these days. After all, iPhones take pictures matching or exceeding the quality of many standalone cameras, and smartphones offer cellular data connectivity from just about anywhere, so images can be shared as soon as they're taken.
Of course, if you want to spice things up by creating compilation videos instead of boring loved ones with hundreds of still photos, there are apps for that, but most require at least a passing knowledge of editing, not to mention the time it takes to put it all together.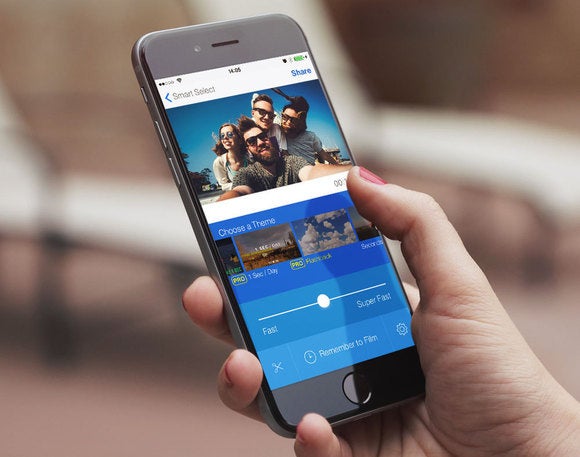 Life moves at a fast pace, and now your compilation videos can too in a matter of minutes with VideoSlam.
I recently took an app called VideoSlam (free at the App Store) for a spin, which aims to turn hours, days, weeks, or even months' worth of videos and photos into share-friendly montages within minutes. While I found the app a little too basic for my needs, it definitely delivers on simplicity.
No assembly required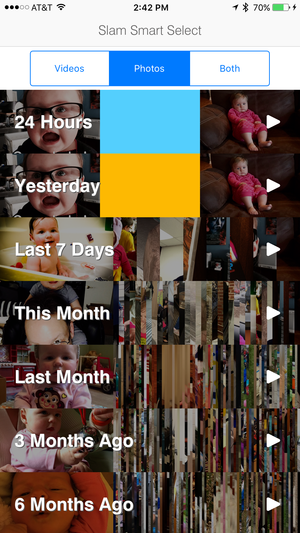 VideoSlam makes it easy to assemble quick compilation videos using photos, home movies, or both from a predetermined time.
VideoSlam works on the premise that users want to share a collection of photos and videos taken within a range of time. The app's one-tap Smart Select feature collects content taken in the last 24 hours, the day before, the last week, this month, last month, three or six months ago, or the same month a year ago.
Other options include content shot today or within the last hour, and VideoSlam can be set up to remind you to shoot at designated intervals, or create video of an entire day's Instagram posts, handy for frequent users of the photo-centric social network. The app can also turn an entire album's worth of content into a video. VideoSlam plays nice with iCloud Photo Library, offering the option to download or skip photos and videos that haven't been downloaded to the device.
There's very little customization available, although users can limit content to videos, photos, or both by pulling down on the Smart Select screen. As soon as you make a selection, the app quickly cooks up a video in mere seconds, and begins playing it with a watermark applied at the top. (A one-time $3 in-app purchase removes watermarks from all videos.)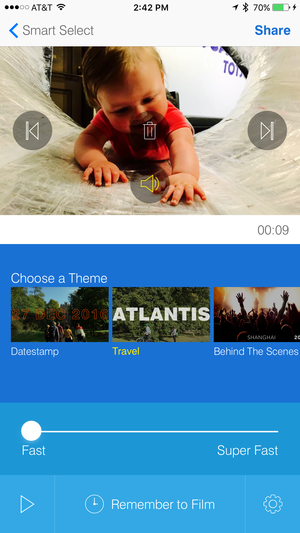 VideoSlam's "edit" mode requires in-app purchase, and is really more about removing photos and videos you don't want.