Why 'S year' iPhones are a bigger deal than they may seem
Like the iPhone 5s and 4s before it, the iPhone 6s introduces some brand-new features that will define Apple products for years to come.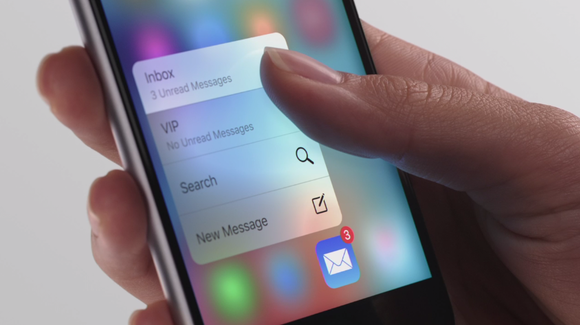 Quick Actions is just one of many new features of the iPhone 6s and 6s Plus. Credit: Apple
Sneak peek
The addition of 3D Touch means more to the future of iOS devices that the iPhone 6's larger screen did, adding a new dimension to multi-touch and opening up the screen in bold new ways. Much like you could see the future implications during the Siri demo, watching Federighi show off 3D Touch only scratched the surface of what it will be able to do.
On the Apple Watch and 2015 MacBook, Force Touch is a neat feature that adds a layer of convenience, eliminating keystrokes and mouse clicks on the Mac and compensating for the lack of screen real estate on the Watch. But while everyone assumed it would be a "me, too" feature that offered little in the way of excitement, the implementation on the iPhone is wildly more innovative, to the point where Apple felt the need to rename it. 3D Touch isn't just a gimmick to distinguish the iPhone 6s from its predecessor—it's an entirely new input method that puts all phones before it on a short path to becoming obsolete.
Much like Siri (which was the 4s' marquee feature) has matured into a technology powerful enough to control virtually every interface we use, in a few short years 3D Touch will be as transformative as multi-touch was, expanding the capabilities of iOS beyond today's boundaries and limitations. It's the kind of feature that seems so obvious, so simple in retrospect that using a device that doesn't have it (like, say, the iPhone 6) will seem foreign and antiquated. It's not just a reason to upgrade, it's a leap forward in the evolution of iOS.
Second coming
While its competitors are still scurrying to out-innovate Apple with curved screens and wireless charging, Apple is sticking to a very regimented schedule of iteration. And while the likes of Samsung and Motorola may think the "S" year offers a chance to jump ahead in an off year, it's actually the sequel models that have defined the iPhone and set the course for future revisions.
In the new iPhone 6s commercial, Apple takes a crack at the perception that just because the external design hasn't changed it's not worth upgrading. New designs are always exciting, and just like everybody else, I would love for Apple to release a new one every 12 months, but as the commercial shows, Apple's "S" phones can't be reduced to a better camera and speedier processor. They're the real innovators, and while the iPhone 6s might not have stolen the show yesterday, you can bet that 3D Touch will be at the forefront of everything that's coming next.
So, when everyone is gearing up next September to see what the iPhone 7 will look like, Apple will already be thinking of how it will become even better. Even though it's dressed in the same boring clothes as last year.