Will 4K video devour the latest iPhones' storage?
The least expensive iPhone 6S models remain stuck at 16GB; analysts say larger capacity models should be ok for most users.
Fogg agreed.
"While rival Android smartphones have offered 4K capture since the Snapdragon 801 models early last year, many of those had only 16GB or 32GB on board storage. And, those that had micro SD cards often included warnings encouraging use of internal storage for speed reasons," Fogg said. "By comparison the iPhone 6S is generous."
Just as important as onboard NAND flash capacity will be the role of Apple's iCloud Drive online photo and video storage service, according to Unsworth.
"While more storage may be needed [internally on the iPhone 6S and 6S Plus], I think this video could be stored via the cloud or may just be deleted as its ephemeral content," Unsworth said.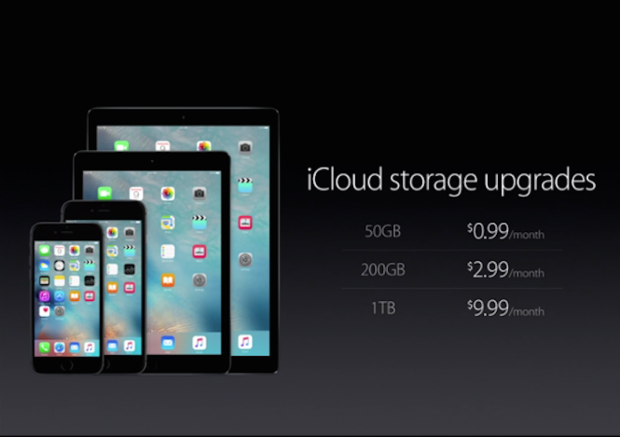 Apple increased the capacity and slashed some pricing for its iCloud online video and photo storage service. Credit: Apple
Notably Apple has raised the amount of iCloud storage available through its service and slashed some prices in half.
As before, users get 5GB of capacity for free; they can upgrade to 50GB for 99 cents per month (previously that entry level only provided 20GB of storage); 200GB is now $2.99 a month (previously it was $3.99); and 1TB of storage is now $9.99 a month (previously it was $19.99).
IHS agreed that in combination with the cloud services, the new iPhone lineup should have no problem handling the additional video and photo content.
In an analysis of the iPhone 6S and 6S Plus, IHS stated that while both Nokia and HTC have implemented similar features, Apple's use of Apple Photos to enable back-up and cross-device cloud sharing makes their "implementation far more elegant."