Windows phones' free-fall may force Microsoft to push harder on Windows 10 adoption
Microsoft needs to protect its access to your wallet.
Poor little Windows phone could have a bigger effect on Microsoft's business than you'd think. As the company's mobile device strategy continues to disintegrate, Microsoft may feel compelled to push harder on Windows 10 adoption and paid services to prove it can survive without a viable smartphone—and that could be bad news for consumers.
The raw numbers are shocking: Microsoft sold a minuscule 2.3 million Lumia phones last quarter, down from 8.6 million a year ago. Phone revenue declines will only "steepen" during the current quarter, chief financial officer Amy Hood warned during a conference call. That's dragged down Microsoft's results as a company, too.
Chief executive Satya Nadella opened his remarks to analysts optimistically, however, by noting that Windows 10 now powers 270 million devices in active use, a steady increase in its user base since the formal launch of Windows 10 last July. Later on, he summed up Microsoft's message: "In this world, what matters most is the mobility of a person's experience, not any one single device," he said.
Will Wall Street buy it? If it does, Nadella will be free to continue. But if investors begin to get cold feet, you might see Microsoft push Windows 10 more aggressively to keep its numbers up.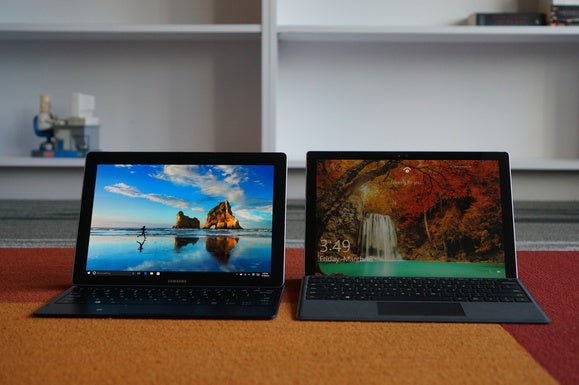 The most direct way to move a customer into the Microsoft ecosystem is by selling him a Microsoft branded device. Credit: Gordon Mah Ung
Selling hardware to sell services
Nadella's strategy is simple enough: grow Microsoft's revenues, in part by convincing customers to adopt its paid subscription services. The most direct way is through sales of Surface or Lumia hardware. If that fails, then a third-party Windows 10 PC will suffice. Failing that, Microsoft apps like Bing or Cortana running on iOS or Android are acceptable as well.
But what Microsoft really wants is to sign you up for paid subscription services: Office 365 and Xbox Live, plus the corresponding enterprise licenses for Windows 10, Office 365, and Azure. "Overall, the thing that we're most focused on with Office 365 is how do we make sure we have the Office 365 endpoints everywhere, [with] good usage," Nadella said.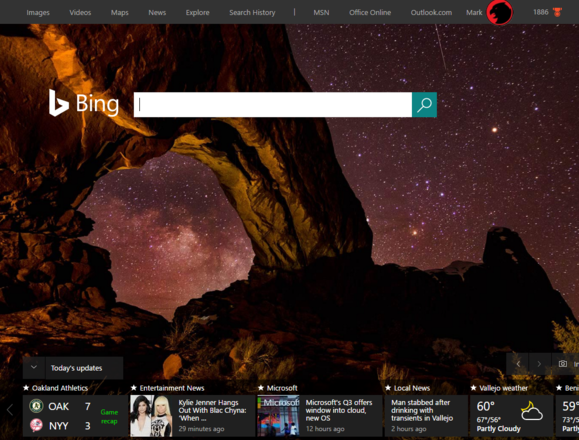 Microsoft's Bing homepage provides a bit of revenue to Microsoft, but it also drives users to oher Microsoft-owned properties.
According to Verto, which measures online audience across all devices, Microsoft has four online properties with more than 100 million users per month: Microsoft Live (177.1 million), Bing (138.9 million), Microsoft Office (136.3 million), and MSN (121.5 million). Skype has 83.7 million users.