With iOS 11, Apple focuses on enterprise users
The new OS, due out this fall, doubles down on productivity, is more intuitive and makes the iPad Pro a device that can replace a PC for most tasks.
In making the iPad more capable, it's becoming more Mac-like. If you put Apple's product lines side by side, there is now a very effective and obvious progression of user interface from desktop to tablet to phone to watch. This gives all of Apple's products a greater sense of cohesion. And it strengthens Apple's ecosystem because one device leads so naturally to the next. That's even clearer when you consider services like the Continuity features Apple released two years ago, or even the ease of setup for products like the Apple Watch and AirPods.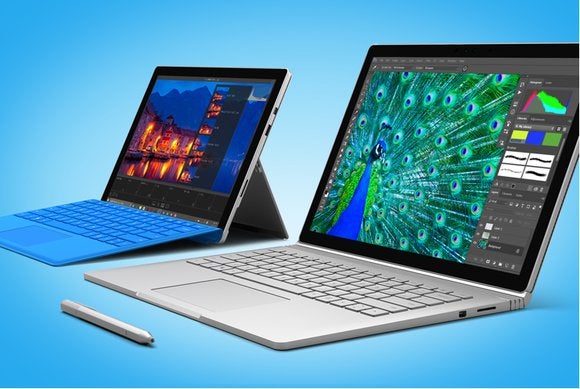 Microsoft's Surface Pro 4 and Surface Book. Credit: Microsoft
Apple and Microsoft shoot for the same goal from opposite directions
Apple is certainly trying to cement its position in enterprise mobility and take a share of the enterprise desktop market. What's interesting is that Apple and Microsoft (with the Surface line) both appear to be aiming for the same sweet spot: a device that combines the best of desktop productivity, intuitive user experience, and integration in the 21st century enterprise stack.
While Apple started with a completely mobile platform and refined it into a powerful business solution that supports enterprise management, Microsoft started with the traditional desktop and then attempted to mobilize it. Both companies have made missteps along the way. For Apple, that was restricting iOS as a single user experience, regardless of device. For Microsoft, it was pushing too far, too quickly, with Windows 8. iOS 11 and Windows 10 represent both companies' attempts to course correct and deliver a next-generation computing experience that balances the best of both worlds, mobile and desktop.
Nowhere is this course correction more visible than in enterprise device/PC/Mac management. Microsoft is pushing for Windows 10 to be managed using EMM rather than the heavier solutions PC management has required in the past. That represents a bit of catching-up, given that Apple began that journey six years ago with macOS Lion. But it's also a change that will eventually change how IT manages PCs.
This is significant because it goes to the heart of an issue I discussed two years ago: that EMM is a significant shift from Active Directory group policies and SCCM. Microsoft's change in strategy, while perfectly reasonable, actually helps Apple. If IT departments need to shift to EMM as their primary PC and device management strategy, a lot of the barriers to Apple devices begin to fade away. The same software can easily manage all mobile devices, Macs and PCs. By focusing on EMM as a total management approach, businesses can become even more device agnostic -- allowing workers to be more productive on the devices they already have.