WWDC: Apple unveils iOS 5
Apple on Monday gave users their first glimpse at iOS 5, the next iteration of the company's mobile operating system for iPhones, iPads, and iPod touch models.
Apple on Monday gave users their first glimpse at iOS 5, the next iteration of the company's mobile operating system for iPhones, iPads, and iPod touch models. During the keynote address at the Worldwide Developers Conference, Apple senior vice president Scott Forstall covered 10 of the over 200 new consumer-level features planned for iOS 5. With iOS 5, Apple introduces a couple brand new apps, revamps many others, rethinks notifications, and finally severs the cord between iOS and the Mac.
Developers get a copy of iOS 5 on Monday. The finished version will be available to consumers in the fall.
Notifications
For many users, perhaps no new iOS 5 feature will be more welcome than its overhauled notifications system. The days of the modal, one-at-a-time pop-up alert are ending, and Forstall's declaration that iOS 5 includes an upgrade brought an uproarious cheer from the developers in attendance. For starters, when you're actively using your iOS device, new notifications no longer take over your screen and require you to deal with them. Instead, they appear in a subtle, smaller, animated bar that slides down from the top of the screen. If you tap the notification, you're taken directly to the app that sent it; otherwise you can ignore the notification—it will go away on its own.
But instead of disappearing into the ether, notifications are now archived: iOS 5 also introduces something Apple calls Notification Center, a single place that combines all of your notifications. You can access Notification Center at any time with a single downward swipe from top of your device's screen—a gesture which, it must be said, achieves the same effect already on Android phones. Notification Center then slides down to display a list—sorted by app—of push notifications you've received, including missed calls, voicemails, text messages, and app-specific notifications. Apple has also added stock and weather updates.
Within Notification Center, you can tap a notification to switch directly to the app that sent that notification, or you can easily delete notifications you no longer need. Dismiss Notification Center and you get right back to your app.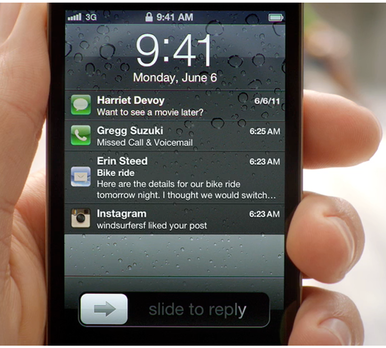 The iOS lock screen now handles notifications better, too. You can swipe across a notification on the lock screen to go directly to the appropriate app. For example, Forstall swiped across a text message notification on his lock screen, which took him directly to that text in the Messages app.
PC Free
Forstall declared that folks want to buy iPhones and iPads without needing computers to tether them to. Starting with iOS 5, new iPhones will lose the traditional "Connect to iTunes" screen and instead display a Welcome screen—a quick swipe and you can activate your device on the device itself. Software updates—as in, new iOS updates—are now sent over the air, too, so you no longer have to connect a cable to your computer to get the latest incarnation of the operating system through iTunes. You also no longer need to plug your iOS device into your computer to sync media, and thanks to delta updates (which include only code that's been changed), iOS-app updates will be much smaller.