WWDC: Apple unveils iOS 5
Apple on Monday gave users their first glimpse at iOS 5, the next iteration of the company's mobile operating system for iPhones, iPads, and iPod touch models.
Forstall said that, as part of cutting the PC cord, Apple looked to eliminate those situations where folks go back to their computers instead of using their iOS devices. Various tasks—like adding and deleting calendars, creating and deleting mailboxes in Mail, and basic photo editing—will in iOS 5 be possible right on your iPhone, iPad, or iPod touch to help eliminate the PC as an iOS requirement.
iMessage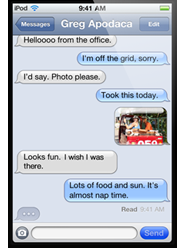 As rumored in the run-up to the WWDC keynote, iOS 5 includes a new messaging feature called iMessages, built into the Messages app, that lets you sends texts, photos, videos, and contacts—and supports group messaging—with other iOS devices. Different from traditional text messaging, iMessage messages can be sent only between iOS devices, and include new features such as delivery receipts, read receipts, and iChat-like indications of when your contacts are typing back to you. Messages are delivered to all your iOS devices, work over both 3G and Wi-Fi, and are encrypted, to boot.
It's a new take on instant messaging, even though it doesn't replace SMS.
Safari
Forstall said that Safari on iOS accounts for almost two-thirds of mobile Web browsing, and its engine, which is the base of Android Web browsers, accounts for nearly 90 percent of all mobile browsing. Among Safari's new features in iOS 5 is a feature called Reader. Like the similar functionality in the desktop version of Safari, Reader lets you get (and share) just the content of an article, removing navigation, ads, and other extras; it also reformats that content for easier reading.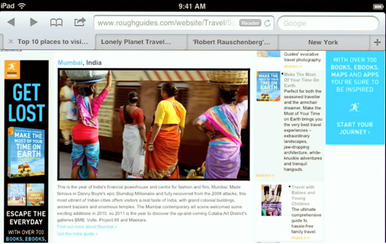 Also new is Reading List, which is a simple and convenient way to save a story for later reading. Items in your Reading List are synced to Safari on all your iOS 5 devices, as well as to all your Macs running Lion.
Tabbed browsing makes its first appearance in Safari in iOS 5, too. Tabs look and function much as you'd expect—that is, just like they do in Safari on the Mac—and, based on the demo Apple showed, are much faster to switch between than the "pages" feature of iOS 4 Safari. However, this feature is limited in iOS 5 to the iPad, likely due to space constraints on the smaller screens of the iPhone and iPod touch.
Newsstand
Forstall said that "most of the major publishers of magazines, and many newspapers" have signed up for App Store subscriptions already. Newsstand is a devoted app for accessing and downloading those periodicals. The interface looks a lot like iBooks, only it focuses on magazines and newspapers instead. The app also supports background downloads—for example, new issues that arrive overnight will download automatically and be waiting for you in the morning.
Previous Page 1 2 3 4 Next Page