Backups for the creative pro
What to think about when you need to back up vast amounts of data.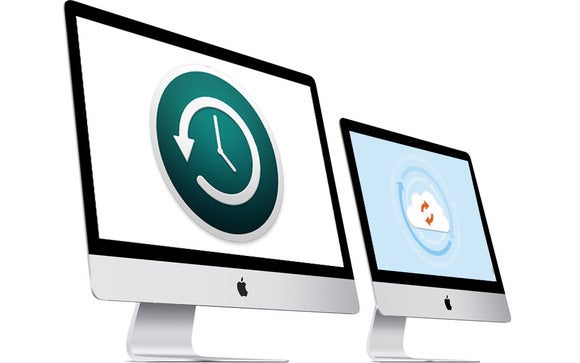 Backing up a Mac with a terabyte or two of internal storage poses no particular challenge. Creative professionals, however, tend to generate massive quantities of new photo, video, or audio files on a daily basis, resulting in a multiple terabytes of data that may require a more elaborate backup approach.
Split decision
My first recommendation for creative pros is to think of your backups as two separate operations: one for your large media files (which may be on external storage anyway), and one for everything else. You can tell Time Machine to exclude a folder or volume that stores your media files by opening System Preferences > Time Machine, clicking Options, dragging the item to the list, and clicking Save; most other backup software offers a similar capability. By doing this, you'll keep your conventional backups relatively small and fast, and make it easier to give your media files special treatment.
Time Machine offers no way to back up a subset of your data to one destination and a different subset to another destination. So, for your media files, I recommend using a different backup app. There are many fine choices, but if I had to pick just one, I'd suggest CrashPlan because it can back up to both local and cloud storage, as well as to other computers you own. And it lets you define multiple, independent backup sets, each with its own source and destination.
Run the numbers
Your next step is to figure out just how much data you'll need to back up, so that you can select an appropriate storage device. Again, I suggest making this a different device from the one that holds your day-to-day versioned backups (such as those created by Time Machine) or bootable clones (such as those made by Carbon Copy Cloner), because that will make the process cleaner and give you more flexibility if you later need to add storage.
Start by noting how much data your media folder(s) or volume(s) currently occupy (which you can find by selecting the folder or volume in the Finder, choosing File > Get Info, and looking at the Used line).
Now estimate how much new data you generate on a typical day. One way to do this is to create a smart folder.
In the Finder, choose File > New Smart Folder. Make sure This Mac is selected.
Click the + (plus) button on the right, next to the Save button. From the first pop-up menu, choose Created Date; from the second, choose Yesterday (assuming yesterday was a typical day).
Click + (plus) again. Then choose Kind from the first pop-up menu in the new row and Other from the second; enter -folder into the field (meaning "show me just files, not folders").
Press Command-A to select everything added yesterday, and then Command-Option-I to display the total size of that data.
Click Save to save your smart folder so you can check it again later.