How to test your PC for the Skylake bug
Intel confirms there's a bug that could crash Skylake CPUs, under specific and somewhat uncommon circumstances.
How to test for the Skylake bug
Chasing down a capricious bug sounds like a good way to avoid doing something else, so here's how to do it. Download Prime95 version 28.7 from Mersenne95 and decompress the file into a folder.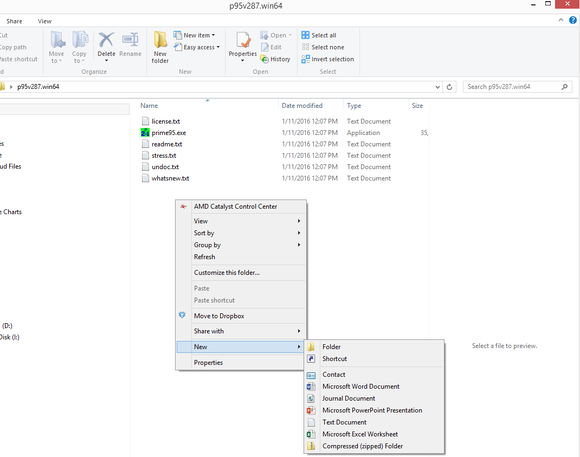 With the latest version of Prime95, you will need to tell the program to use AVX instructions by creating a text file called "local.txt". (Click to expand)
If you use the current 28.7 version, you will need to create a text file in the folder using Notepad. You can do this by right-mouse-clicking in the Prime95 folder and selecting New > Text Document. Give the text document the title "local.txt." Once the file is created, double-click it to open with Notepad and type the line CpuSupportsFMA3=0. Save the file in the same folder.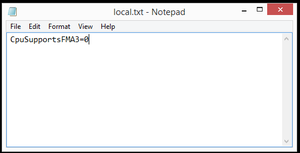 You'll need to create a text file to tell Prime95 to use AVX to hit the bug.
You have to do this because, according to the bug finders, by default the newer version of Prime95 will use AVX2 and the error appears to only occur with AVX.
Start Prime95 by double-clicking Prime95.exe. Dismiss the dialog by clicking Just Stress Testing.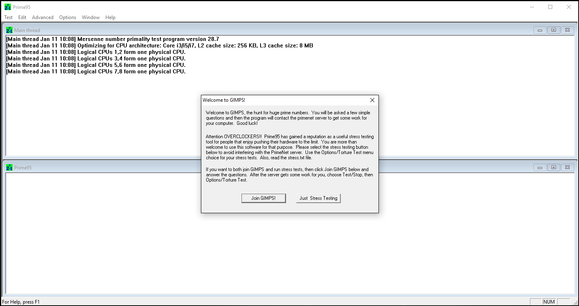 Just skip and select: "Just Stress Testing." (Click to expand)
A dialog box will appear to Run a Torture Test. Select Custom and change the Min FFT size (in K) to 768, and change Max FFT size (in K) to 768. Select Run FFs in-place and also set the run time to 120 minutes or longer. Clicking OK will start the Torture Test.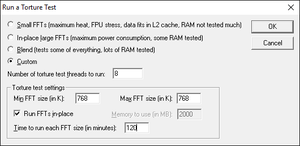 Using these settings in Prime95, people have reported being able to hang up their new Skylake CPUs.
Now just wait and see if it locks up. Most of the problems seem to occur with the top-end desktop Core i7-6700K, but Intel seems to be implying it could occur on other CPUs.
Before you run this test, you should be aware that Prime95 puts a heavy load on CPUs. Systems that are marginal on cooling or overclocked may crash on their own, so it's probably best to run this test on a PC with stock settings to make sure it isn't just an unstable overclock.