MacScan 3 review: Easy-to-use software stomps out malware, tracking cookies
A one-stop shop to tackle the ever-increasing threat of malware on OS X.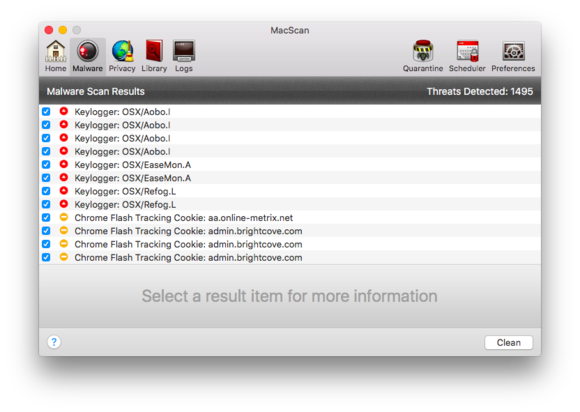 Following a scan, MacScan 3 displays a list of all malware and tracking cookies discovered, with the option to eliminate them in one click.
Privacy, please
During testing for this review, I'm happy to report MacScan 3 found no malware on my system, although the software did turn up another scoundrel lurking just below the surface. Tracking cookies are harmless little bits of text advertisers leave behind when you visit a website. They're not really a threat, but because they can be used to identify users (and in many cases customize web pages upon subsequent visits), privacy advocates consider them sinister enough to eradicate when possible.
Browsers like Safari can be set up to block cookies entirely, but removing existing ones is a job for MacScan's Internet Clutter Cleanup mode. Cookie Scan performs this task in a matter of seconds by limiting its search to known blacklisted tracking and Flash cookies. Like the malware section, there's also Full and Custom scan options, should you want to dig deeper into cache files or browsing and download history as well.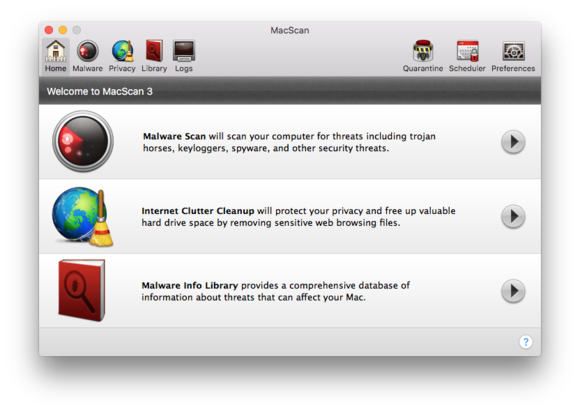 Malware and tracking cookies can again be a thing of the past, thanks to the easy-to-use MacScan 3.
Because we've all got enough on our minds, MacScan 3 allows users to schedule individual Smart, Quick, Full, or Cookie scans for a specific time on each weekday, weekend, or day of the week that's convenient for you. When not running, the software lives in the menu bar for quick access to scans, schedules, and activity logs.
There's really only one potential downside, and that's the price: $50, which protects a single computer for one year. Considering SecureMac constantly (and automatically) updates malware definition and tracking cookie blacklists, it's a fair price. The company also offers a free 30-day trial version from its website, along with a good discount on multi-year, multi-user licensing.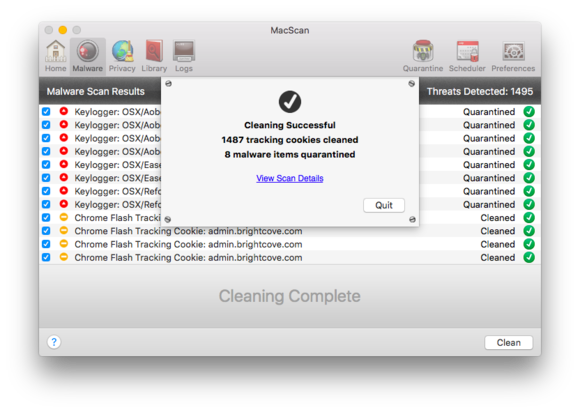 You'll have to quit out of MacScan 3 after each scan and cleaning is completed.
Bottom line
MacScan 3 makes rooting out and eradicating malware or tracking cookies as easy as a few clicks of the mouse, but you'll need to pay for more than one year at a time if you want the best deal.