SXSW starts out with spotlight on security, as Google's Schmidt sounds off on NSA
The interactive portion of the South by Southwest conference is usually a launching pad for apps like Twitter and Foursquare, but security figures to be a popular topic this year, judging by the opening day remarks of Google's chairman.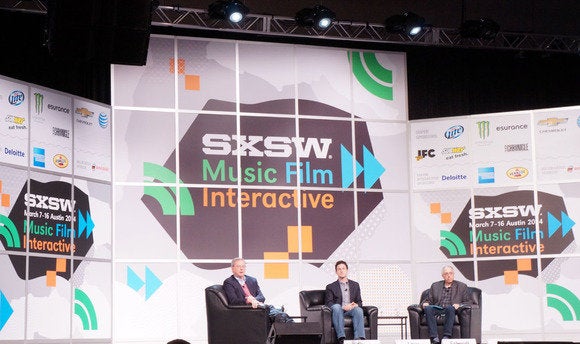 Austin, Texas is in full-on party mode as South by Southwest kicks off Friday, but the normally lighthearted Interactive portion of the festival—best known for turning Twitter and Foursquare into stars—is taking a serious turn this year by addressing the National Security Agency's PRISM program head-on.
Reporter Glenn Greenwald, WikiLeaks founder Julian Assange, and NSA whistleblower Edward Snowden will take the stage—Assange and Snowden via a livestream—over the next few days, and even Google executive chairman Eric Schmidt kicked off the festival's first day with deep thoughts on Google's role in the scandal.
"We were surprised" by the NSA revelations, Schmidt said during a Friday panel at South by Southwest with Jared Cohen, director of Google Ideas. The agency's work with GCHQ, Britain's surveillance agency, to tap into the fiber-optic networks that carry data between Google's data centers incensed the company, which worked quickly to put the kibosh on the program, called "Muscular."
"The very fact that they did this was very suspicious to us," Schmidt said. "The solution to this is to encrypt data at multiple points of source. We now use 2048-bit encryption. We switch the keys at every session. We're pretty sure that any information that's inside of Google is safe from the government's prying eyes, including the U.S. government's."
Schmidt's wariness of the government extends to Snowden, who will also speak at SXSW this weekend.
"We went to visit with Julian Assange, and both of us felt that who gets to decide what information is public is a pretty fundamental issue in democracy," Schmidt said. "I don't think we want random people leaking large amounts of data. I don't think that serves society."
But Schmidt was careful to maintain Google's support of an open Internet free from censorship. He criticized countries like Iran that want to lock down the Web and prevent the flow of information, and groups of countries that would band together to participate in the editing of the Internet.
On the Google bus protests
NSA surveillance and dictators aren't the only thorns in Google's side. A vocal group of San Franciscans has protested the company's use of city-owned bus stops to shuttle Google employees down to its Mountain View, Calif., headquarters. Google's buses have become symbols of the city's gentrification, where rising tech salaries have given way to rising rents, effectively pushing out San Francisco's working class.
"We're very, very worried about this issue," Schmidt said. "The data suggests that the problem gets worse."
"In San Francisco, the gentrification story has been going on for a very long time," Schmidt continued. "The tensions can get worse. The longer-term solution is to recognize that you can't hold back technology progress. You're much better off organizing society to take advantage of that technology."